When two applications communicate via Messaging, the communication is one-way. The applications may want a two-way conversation.
When an application sends a message, how can it get a response from the receiver?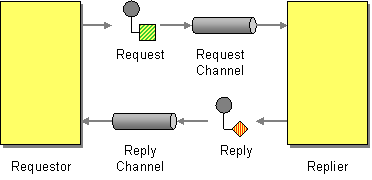 Send a pair of Request-Reply messages, each on its own channel.
Request-Reply has two participants:
Requestor – Sends a request message and waits for a reply message.
Replier – Receives the request message and responds with a reply message.
The request channel can be a Point-to-Point Channel or a Publish-Subscribe Channel. The difference is whether the request should be broadcast to all interested parties or should only be processed by a single consumer. The reply channel, on the other hand, is almost always point-to-point, because it usually makes no sense to broadcast replies–they should only be returned to the requestor.

...

Related patterns: Command Message, Correlation Identifier, Document Message, Remote Procedure Invocation, Event Message, Guaranteed Delivery, Message, Message Channel, Message Sequence, Messaging, Point-to-Point Channel, Polling Consumer, Publish-Subscribe Channel, Return Address
---