An enterprise contains several existing systems that must be able to share data and operate in a unified manner in response to a set of common business requests.
What is an architecture that enables separate applications to work together, but in a decoupled fashion such that applications can be easily added or removed without affecting the others?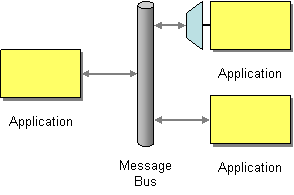 Structure the connecting middleware between these applications as a Message Bus that enables them to work together using messaging.
A Message Bus is a combination of a common data model, a common command set, and a messaging infrastructure to allow different systems to communicate through a shared set of interfaces. This is analogous to a communications bus in a computer system, which serves as the focal point for communication between the CPU, main memory, and peripherals. Just as in the hardware analogy, there are a number of pieces that come together to form the message bus:
... Read the entire pattern in the book Enterprise Integration Patterns
Related patterns: Canonical Data Model, Channel Adapter, Command Message, Datatype Channel, Message Router, Service Activator, Publish-Subscribe Channel
---