| | | |
| --- | --- | --- |
| | | |
My application is using Messaging to perform a Request-Reply and has received a reply message.
How does a requestor that has received a reply know which request this is the reply for?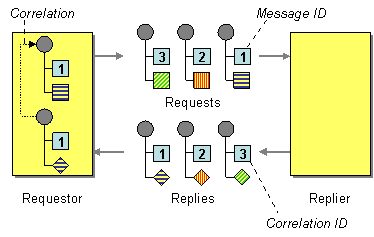 Each reply message should contain a Correlation Identifier, a unique identifier that indicates which request message this reply is for.
There are six parts to Correlation Identifier:
Requestor — An application that performs a business task by sending a request and waiting for a reply.
Replier — Another application that receives the request, fulfills it, then sends the reply. It gets the request ID from the request and stores it as the correlation ID in the reply.
Request — A Message sent from the requestor to the replier containing a request ID.
Reply — A Message sent from the replier to the requestor containing a correlation ID.
Request ID — A token in the request that uniquely identifies the request.
Correlation ID — A token in the reply that has the same value as the request ID in the request.
... Read the entire pattern in the book Enterprise Integration Patterns
Related patterns:
Remote Procedure Invocation, Message, Selective Consumer, Message Sequence, Messaging, Request-Reply, Return Address
Further reading:
---