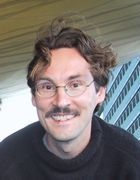 This site is maintained by Gregor Hohpe (pronounced "hoh-puh").
I am Chief IT Architect at Allianz SE. Previously, I worked as a software engineer at Google and for consulting companies advising Global 1000 companies on their enterprise architecture and integration strategies. Naturally, the opinions expressed on this site are my personal ones, not those of my current or past employers.
I enjoy seeing the field of IT from different angles (consulting, software engineering, corporate IT) and collecting my thoughts in my ramblings. I have also tinkered a bit with hardware, mostly based on AVR micro controllers and Raspberry Pi.
I want to make it easier to build Enterprise Application Integration (EAI) or Service-oriented solutions more efficiently and with higher quality. I have therefore collected
Patterns of Enterprise Integration
from my many client projects. The patterns provide reusable constructs that make EAI design more expressive and solution development more repeatable. My paper on enterprise integration patterns from
PLoP 2002 conference
has evolved into a successful
book
published in 2003. By now (2017) more than 70,000 copies were sold.
Short Bio
In his role as Chief Architect at Allianz, Gregor Hohpe is drawing on 15 years' experience in Silicon Valley to drive the digital convergence of insurance. Prior to joining Allianz, he spent 5 years in Tokyo optimizing mobile advertising and merging online and physical worlds into a seamless user experience for Google.
He is widely known as co-author of the seminal book "Enterprise Integration Patterns" and as frequent speaker at conferences around the world. His accessible, but technically accurate essays were republished in "97 Things Every Software Architect Should Know" and "Best Software Writing". He is an active member of the IEEE Software editorial advisory board.
Books
I enjoy writing because putting my thoughts into words forces me to clarify my thinking and allows me to share it with a wide audience.

Enterprise Integration Patterns

Gregor Hohpe and Bobby Woolf
ISBN 0321200683

2003, Addison-Wesley

Gregor Hohpe


2016, Leanpub
Chapters and Contributions
Enterprise Solution Patterns using Microsoft .NET

David Trowbridge, Gregor Hohpe, James Newkirk, David Lavigne
ISBN 0735618399

2003, Microsoft Press

David Trowbridge, Ulrich Roxburgh, Gregor Hohpe, Dragos Manolescu, E.G. Nadhan
ISBN 073561850X

2004, Microsoft Press

Joel Spolsky
ISBN 1590595009

2005, APress

97 Things Every Software Architect Should Know

Edited by Richard Monson-Haefel
ISBN 059652269X

2009, O'Reilly

97 Things Every Programmer Should Know

Edited by Kevlin Henney
ISBN 0596809484

2009, O'Reilly

SOA Expertenwissen (in German)

Gernot Starke, Stefan Tilkov (Eds)
ISBN 3898644375

2007, dPunkt Verlag

Potenziale Entdecken (in German)

Ralf Schneider, Robert Becker (Eds)
ISBN 3662488396

2015, Springer
Disclosures
Martin Fowler
inspired me to state a bit about my financial and other interests
I am a full-time employee of Allianz SE's IT subsidiary
Allianz Technology
. As Chief Architect I am involved in major vendor decisions, which is one reason I rarely talk about vendors (good or bad) on my site or in my presentations. I am good friends with the founders or main committers of almost all open source ESB players, so I tend to pull examples from their products without favoring a particular one.
I hold stocks in mutual funds plus many of the popular IT companies, but not nearly enough to believe that my statements have any influence on their stock price or my net worth. Most of my stock is still in Google, of which I never sold a share. I believe it is a great company that will do many more great things.
I do monetize my site through Amazon's affiliate program and Google Adsense, although it's just enough money for some beers. I occasionally request free review copies from publishers without any obligation to post a positive review. If I find the book particularly noteworthy, I post a brief mention on the
main page
or a review on
Amazon
.
This Site
I tend to keep the content of this site mostly up-to-date, but the technical underpinnings are about as old as
EIP
. The site is completely static, rendered by a mix of Ant 1.7 and XSLT. Back in the day this was hot technology! I updated some of the HTML to be at least somewhat HTML 4.0 compliant, but a lot of it is still the way the Web was around 2002.
The domain of Enterprise Integration Patterns is much broader than asynchronous messaging. That's why I am trying to collect more Enterprise Integration Patterns, mostly focused on
stateful interactions between systems
. But it's slow going...
A long time ago, I created a number of tools to automate tedious EAI development, such as StubGen (a code generator for TIBCO AE) and
TibDoc
(a documentation generation tool). I have also created a
messaging toolkit
that demonstrates the patterns in my book. I am in the process of
open-sourcing
it.
---
---