An application would like to transfer data to another application. It could do so using File Transfer or Shared Database, but those approaches have shortcomings. The transfer might work better using Messaging.
How can messaging be used to transfer data between applications?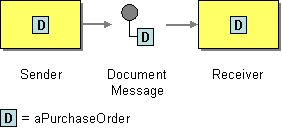 Use a Document Message to reliably transfer a data structure between applications.

Whereas a Command Message tells the receiver to invoke certain behavior, a Document Message just passes data and lets the receiver decide what, if anything, to do with the data. The data is a single unit of data, a single object or data structure which may decompose into smaller units.

...

Related patterns: Command Message, Remote Procedure Invocation, Event Message, File Transfer, Guaranteed Delivery, Message, Message Expiration, Messaging, Point-to-Point Channel, Publish-Subscribe Channel, Request-Reply, Shared Database
---
Want to keep up-to-date?
Follow
My Blog
.
---
Find the full description of this pattern in:
Enterprise Integration Patterns
Gregor Hohpe and Bobby Woolf
ISBN 0321200683
650 pages
Addison-Wesley

From Enterprise Integration to Enterprise Transformation:

My new book describes how architects can play a critical role in IT transformation by applying their technical, communication, and organizational skills with 37 episodes from large-scale enterprise IT.

Parts of this page are made available under the Creative Commons Attribution license. You can reuse the pattern icon, the pattern name, the problem and solution statements (in bold), and the sketch under this license. Other portions of the text, such as text chapters or the full pattern text, are protected by copyright.
---
---