This pattern catalog describes 65 integration patterns, collected from many integration projects since 2002. The patterns provide technology-independent design guidance for developers and architects to describe and develop robust integration solutions. The inspiration to document these patterns came when we struggled through multiple integration vendors' product documentation just to realize later that many of the underlying concepts were quite similar.
Why Enterprise Integration Patterns?
Enterprise integration is too complex to be solved with a simple 'cookbook' approach. Instead, patterns can provide guidance by documenting the kind of experience that usually lives only in architects' heads: they are accepted solutions to recurring problems within a given context. Patterns are abstract enough to apply to most integration technologies, but specific enough to provide hands-on guidance to designers and architects. Patterns also provide a vocabulary for developers to efficiently describe their solution.
Patterns are not 'invented'; they are harvested from repeated use in practice. If you have built integration solutions, it is likely that you have used some of these patterns, maybe in slight variations and maybe calling them by a different name. The purpose of this site is not to "invent" new approaches, but to present a coherent collection of relevant and proven patterns, which in total form an integration pattern language.
Despite the 700+ pages, our book covers only a fraction of patterns (and the problems to be solved) in the integration space. The current patterns focus on Messaging, which forms the basis of most other integration patterns. We have started to harvest more patterns but are realizing (once again) how much work documenting these patterns really is. So please stay tuned.
Messaging Patterns
We have documented 65 messaging patterns, organized as follows: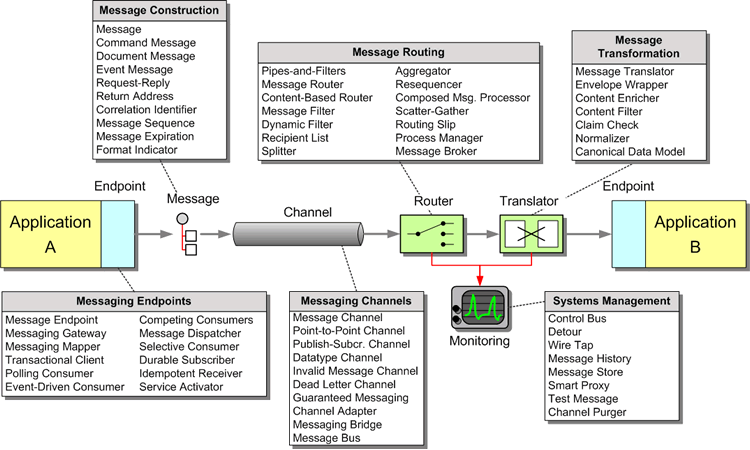 What Products Implement or Use Enterprise Integration Patterns?
The patterns are not tied to a specific implementation. They help you design better solutions, whether you use any of the following platforms:
EAI and SOA platforms, such as IBM WebSphere MQ, TIBCO, Vitria, Oracle Service Bus, WebMethods (now Software AG), Microsoft BizTalk, or Fiorano.
Open source ESB's like Mule ESB, JBoss Fuse, Open ESB, WSo2, Spring Integration, or Talend ESB
Message Brokers like ActiveMQ, Apache Kafka, or RabbitMQ
Web service- or REST-based integration, including Amazon Simple Queue Service (SQS) or Google Cloud Pub/Sub
JMS-based messaging systems
Microsoft technologies like MSMQ or Windows Communication Foundation (WCF)
How Can You Use the Patterns?
We want to encourage widespread use of the integration pattern language. We have therefore provided a variety of ways to access them:
What about REST / SOA / Web Service Patterns?
The book is now over 10 years old. Yet, the integration problems we have to solve every day remain frustratingly similar. Because the patterns encapsulate design knowledge, this knowledge does not age nearly as quickly as a specific technology. For more on applying the patterns to recent integration technologies like REST or Google Cloud Pub/Sub, follow our Ramblings.
Be Part of the Community
We welcome your feedback at: info@enterpriseintegrationpatterns.com.
Contributors
The patterns on this site are the result of discussions involving numerous individuals. Kyle Brown (co-author of "Enterprise Java Programming for IBM WebSphere" and "The Design Patterns Smalltalk Companion"), John Crupi (co-author of "Core J2EE Patterns"), Martin Fowler (author of too many books to mention here), Rachel Reinitz, Mark Weitzel were part of the original discussions. Conrad D'Cruz, Sean Neville, Mike Rettig, Jonathan Simon ended up authoring examples, case studies and a chapter on the future of integration.
---
Want to keep up-to-date?
Follow
My Blog
.
---
Find the full description of this pattern in:
Enterprise Integration Patterns
Gregor Hohpe and Bobby Woolf
ISBN 0321200683
650 pages
Addison-Wesley

From Enterprise Integration to Enterprise Transformation:

My new book describes how architects can play a critical role in IT transformation by applying their technical, communication, and organizational skills with 37 episodes from large-scale enterprise IT.

Parts of this page are made available under the Creative Commons Attribution license. You can reuse the pattern icon, the pattern name, the problem and solution statements (in bold), and the sketch under this license. Other portions of the text, such as text chapters or the full pattern text, are protected by copyright.
---
---