When sending messages from one system to another it is common for the target system to require more information than the source system can provide. For example, incoming Address messages may just contain the ZIP code because the designers felt that storing a redundant state code would be superfluous. Likely, another system is going to want to specify both a state code and a ZIP code field. Yet another system may not actually use state codes, but spell the state name out because it uses free-form addresses in order to support international addresses. Likewise, one system may provide us with a customer ID, but the receiving system actually requires the customer name and address. An order message sent by the order management system may just contain an order number, but we need to find the customer ID associated with that order, so we can pass it to the customer management system. The scenarios are plentiful.
How do we communicate with another system if the message originator does not have all the required data items available?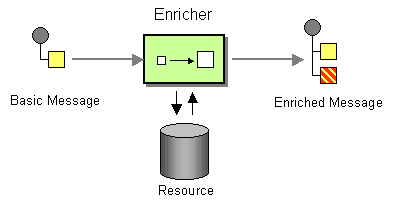 Use a specialized transformer, a Content Enricher, to access an external data source in order to augment a message with missing information.

The Content Enricher uses information inside the incoming message (e.g. key fields) to retrieve data from an external source. After the Content Enricher retrieves the required data from the resource, it appends the data to the message. The original information from the incoming message may be carried over into the resulting message or may no longer be needed, depending on the specific needs of the receiving application.

...

Related patterns: Content Filter, Event Message, Message Channel, Message Translator, Claim Check
---
Want to keep up-to-date?
Follow
My Blog
.
---
Find the full description of this pattern in:
Enterprise Integration Patterns
Gregor Hohpe and Bobby Woolf
ISBN 0321200683
650 pages
Addison-Wesley

From Enterprise Integration to Enterprise Transformation:

My new book describes how architects can play a critical role in IT transformation by applying their technical, communication, and organizational skills with 37 episodes from large-scale enterprise IT.

Parts of this page are made available under the Creative Commons Attribution license. You can reuse the pattern icon, the pattern name, the problem and solution statements (in bold), and the sketch under this license. Other portions of the text, such as text chapters or the full pattern text, are protected by copyright.
---
---